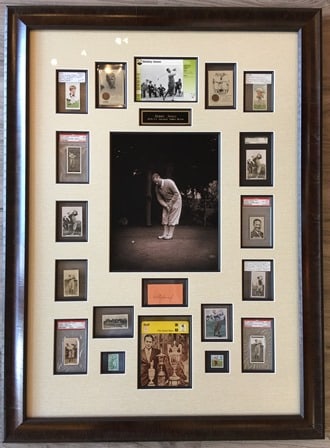 A father and son team has spent the passed 4 years going to golf memorabilia shows in search of items involving their favorite American Amateur golfer Bobby Jones. He was the co-founder of the Masters Tournament.  Their collection involved such things as golf cards, his autograph, photos, and postage stamps.  The clients wanted to keep the memorabilia in their original display cases, and we were happy to oblige.  THE FRAME STUDIO put together a custom shadow box to house the depth of the display cases.
The framing combination that we chose was rugged and outdoorsy. We put matting and glass on both the front and back of the display cases so the information on the back of the cards is viewable when the frame is removed from the wall.
It was a pleasure to work with these clients, and hear about how they found each piece of this project.  They loved the final product so much they even gave us a rave review on Yelp!
This isn't just framed memorabilia, it's a frame full of fun memories of father and son's time together.