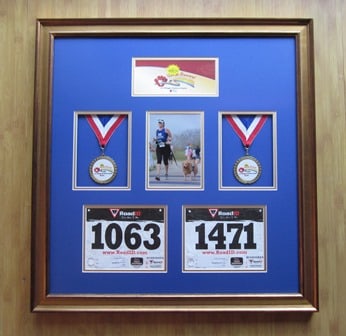 Kathy came into THE FRAME STUDIO the other day with some items from a special race.  Kathy did a 5k run with Nutmeg, her dog.  Kathy works in the health care system, and Nutmeg works at Joe DiMaggio Children's Hospital as a therapy dog.  Kathy and Nutmeg do so much together;  it only made sense to race together.
Kathy wanted to make sure that there would be no question that Nutmeg could run in the race with her, so Nutmeg was entered as a runner. They both had their own entry numbers, and got their own medals at the end.
We were so grateful to get to frame their memories.  We created a shadow box to showcase all of her special items, especially that great photo of the two of them running the 5k together.
It is so special that Kathy shares Nutmeg with the children at Joe DiMaggio Children's Hospital, and that Nutmeg helps the children to heal.  Thanks to Kathy and Nutmeg for helping others, and sharing their story with us.