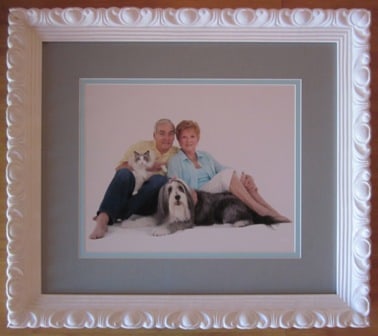 A while back, two customers came in from Little's Photography to frame numerous prints that they had ordered.  Sandra and Charles explained to us that they set up this special "family" shoot to make sure to get some good images of their dog Daisy, who was getting older and in failing health.  They talked about their photo shoot, and told stories of Daisy as they picked out framing.
When Sandra and Charles came in to pick up their framed portraits, they informed us that Daisy had passed.  We at THE FRAME STUDIO and our friends at Little's Photograpy reminisced with them about their sweet pup and how lucky they are that they were able to capture her spirit before she left this earth.
Even though they left with heavy hearts, Sandra and Charles look forward to hanging their framed portraits when they get home, so Daisy can always be around.