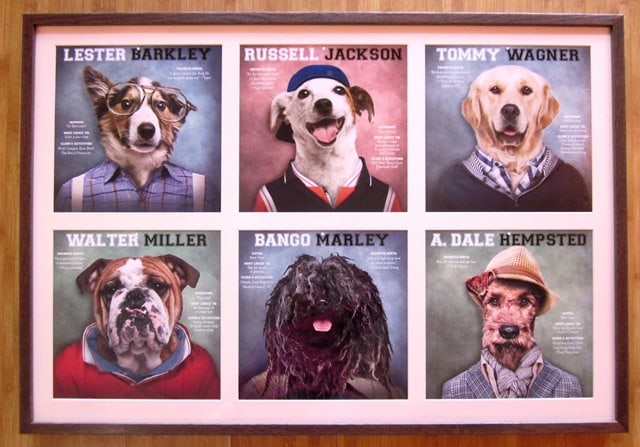 Some times I am stunned at the things that were regular everyday items for me since childhood, that kids today will look at like a confused puppy complete with head tilt and question mark whimper – a wall mounted rotary phone, a record player, a phone book.  Then there are the things that still hold on for dear life, despite the new technology that has replaced them; specifically I am speaking of THE WALL CALENDAR.  Every year, during the holiday season, you can find a pop up kiosk that looks like a card house built of wall calendars.  Despite our need for a wall calendar is no more, we all find ourselves drawn to the gravity of the promise of the future and the chance to get organized this year, all with the added bonus of baskets of kittens, awesome pictures from the Hubble telescope, or Far Side cartoons.  That is the only reason why we purchase them these days anyway – the art!
A client brought in a fabulous calendar of dogs that they decided to custom frame to THE FRAME STUDIO.  After choosing the images they wanted to use, we helped them come up with a great combo that will work over their parson's table. Now they can enjoy those images for years to come!  No reason to toss them come year's end, bring your favorite images for custom framing!
PS- Does anyone else think the dog on the bottom right "A. Dale Hempsted" looks like Little's Photography's Khye Vogt????