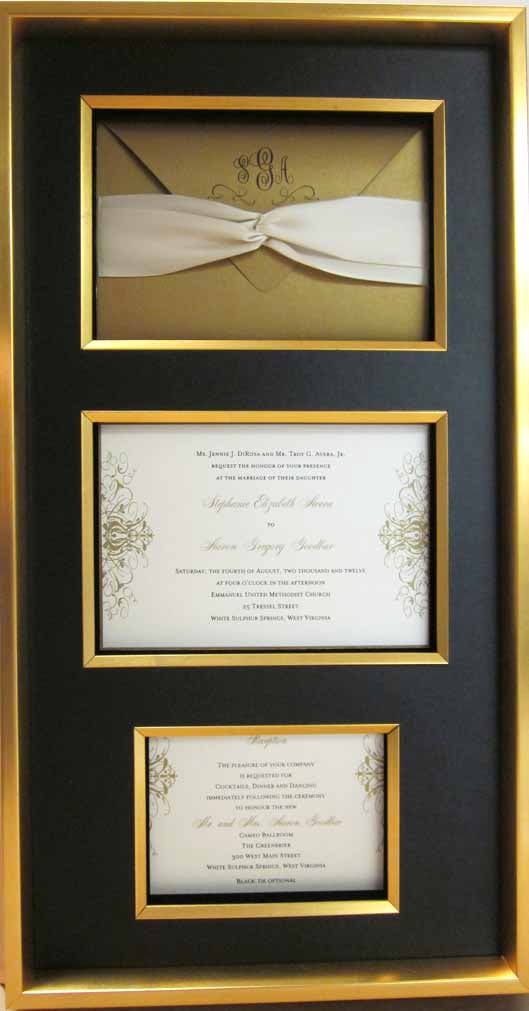 It is going to be a traditional wedding, but with a modern flair.
Stephanie has actually found Mr. Goodbar and their upcoming wedding will be held this August at the The Greenbrier  (www.greenbrier.com) in West Virginia which the mother of the bride, Jennie described as "gorgeous" and is a 240 year old building, steeped in tradition.
With such a special venue for the wedding the invitation had to be perfect. A lot of thought and care was put into its design.   Paper on the Avenue (www.paperontheavenue.com) Richmond, VA worked closely with the bride and groom to make sure that their vision for their programs, cards and especially the invitation was fulfilled.
Their dreams came true, at least for the invites.  Stephanie and Jennie love it so much they decided that it should be custom framed to keep a treasured memory safe, and to cherish always.  They spent some time here at The Frame Studio with us choosing from our extensive selection of frames working to keep the traditional with a modern flair theme of the wedding.